This weekend has been a flurry of activities, with so many friends and family celebrating their birthdays. I intended to be more present this month and reach out proactively to loved ones who are turning a year older.
And so I made it a point to attend a birthday party that functions more as a family reunion after the pandemic and mindfully messaged friends to ask about how they are (aside from the expected birthday greetings).
It was in these conversations I learned of a friend's plan to migrate abroad, and how another friend is worried about the lump discovered on her breast.
Meanwhile, it was in the gathering that I realised how everyone is ageing — how our grandmother already needed a cane while walking, how one of our aunts is losing sight, and how relatives just looked older now. Not all changes were bad though, it seems one of our cousins has been less reclusive and is now more social, another distant cousin may be going on a study trip soon, and my nephews seem to be healthy and growing up to be affectionate boys.
Nonetheless, taking all of these in during one weekend seems to be too much for my already overwhelmed brain who has to take care of the Mother's Day order fulfilment for one of our clients. It's just crazy.
On a larger scale, it's clear that the world around us is changing at an unprecedented pace.
Every day, new technologies emerge, industries transform, and societal norms evolve. It's an exciting time to be alive, but it can also be overwhelming. As I try to keep up with the latest developments, I often feel left behind or left out.
Research shows that I'm not alone in feeling this way. According to a study by the Pew Research Center, 72% of Americans feel that the pace of technological change is increasing rapidly, and 51% feel that they struggle to keep up with new developments. These feelings of overwhelm and disconnection can lead to anxiety, stress, and a sense of disempowerment.
Feeling overwhelmed by changes
One reason why we may feel overwhelmed by the pace of change is that we are living in an era of "exponential growth." As futurist Ray Kurzweil explains, exponential growth means that technological progress is accelerating exponentially. In other words, innovations are building on top of each other, creating a snowball effect that is difficult to keep up with.
It can also make you feel like there should be more changes happening in your own life.
If you feel lost or that you're missing out on life, it's important to remember that you're not alone. Many people feel overwhelmed by the pace of change and the constant flow of new information. However, the good news is that you can take control of your learning and growth by embracing a growth mindset.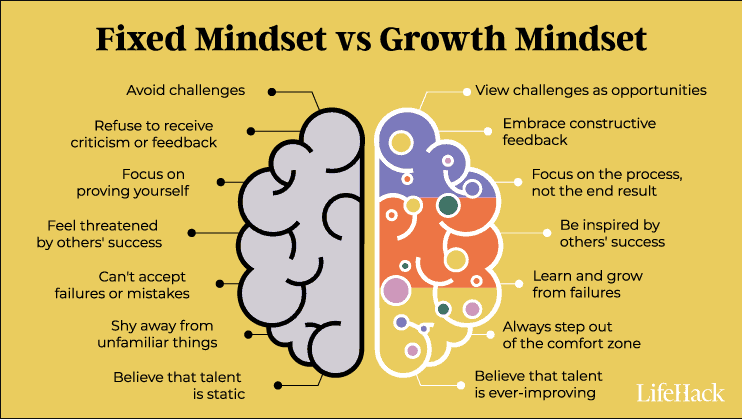 Set achievable goals
One way to cultivate a growth mindset is by setting achievable goals for yourself. By breaking down larger goals into smaller, actionable steps, you can make progress towards your objectives without feeling overwhelmed. Celebrate your accomplishments along the way, no matter how small, and use them as motivation to keep moving forward.
Embrace failures
Another important aspect of a growth mindset is embracing failure as an opportunity for learning. When we try new things, we are bound to make mistakes. However, rather than seeing failure as a reflection of our abilities, we can use it as a learning experience to improve and grow. By reframing failure in this way, we can become more resilient and better equipped to handle the challenges of a rapidly changing world.
Be open to new adventures
It's also important to recognize that learning and growth are lifelong processes. No matter where you are in life, there is always room for improvement and new experiences. Embrace a spirit of curiosity and adventure, and be open to trying new things. Whether it's learning a new language (I think I'll need to pick up where I left off with my sign language course), taking up a new hobby, or exploring a new city, there are endless opportunities for growth and discovery.
Stop comparing your life story with others
Comparing our lives to others is a natural human tendency, but it can lead to feelings of inadequacy, low self-esteem, and even depression.
It's important to recognize that social media can be a major contributor to feelings of comparison and inadequacy. By curating carefully crafted images of our lives, social media can create an unrealistic standard of perfection that we feel compelled to measure ourselves against. One way to combat this is to limit your exposure to social media or to follow accounts that inspire and uplift you rather than make you feel inadequate.
It boils down to how well we accept change.
The key to embracing a growth mindset is to believe in yourself and your ability to learn and grow. By staying positive, proactive, and open-minded, you can navigate the changing world around you with confidence and resilience.
While the pace of change can be overwhelming, it can also be an exciting time to be alive, full of endless possibilities and opportunities for growth. By staying curious, adaptable, and connected, we can navigate the ever-changing landscape of the modern world with confidence and resilience.
Friends and family may have to move away, and the future carries a lot of uncertainties, but it is still a blessing to be alive and surrounded by love.
Remember too, that you shouldn't be discouraged if you feel like you're missing out on life. As for me, I feel extremely grateful for the extended cuddle time I get to enjoy with my two dogs because I work from home. Sure, there are still things I want to gain and achieve, but I am healthy and have everything I need right now.
Ultimately, there's always time to learn, grow, and discover new experiences. The world is constantly changing, but with a growth mindset, you can change with it and thrive.