They say laughter is the best medicine, and in my case, it's also the glue that holds our father-daughter relationship together.
Growing up, my dad had a knack for cracking the corniest dad jokes imaginable. Seriously, I don't even want to explain how the jokes went, it may just take forever and I'll end up the one being confused. Haha. And so while some may leave scratching their heads at the mere thought of them, I've come to appreciate the quirky charm and the unbreakable bond that these jokes have fostered between us.
Unfortunately, my dad passed away before the Internet became widely popular and accessible. I know it's something he would have greatly enjoyed because it's another tool to bug us with. I can only imagine receiving memes, gifs and whatnot — it's making me laugh even now. Nonetheless, I could say we were able to use text messages to their funniest wholesome potential.
As we celebrate Father's Day, let's delve into the science behind dad jokes, exploring the psychology of humour and how it strengthens the connection between fathers and their children.
The Power of Shared Laughter
Shared laughter has a unique way of forging strong bonds between people, especially within the father-child dynamic. As my dad's "groan-worthy" jokes filled our home, they acted as catalysts for moments of genuine laughter. Even though the jokes may be predictable and cheesy, their impact on our relationship is anything but. By joining in the laughter, I was acknowledging my dad's effort to bring joy and create shared memories, thereby strengthening our connection.
The Psychology of Dad Jokes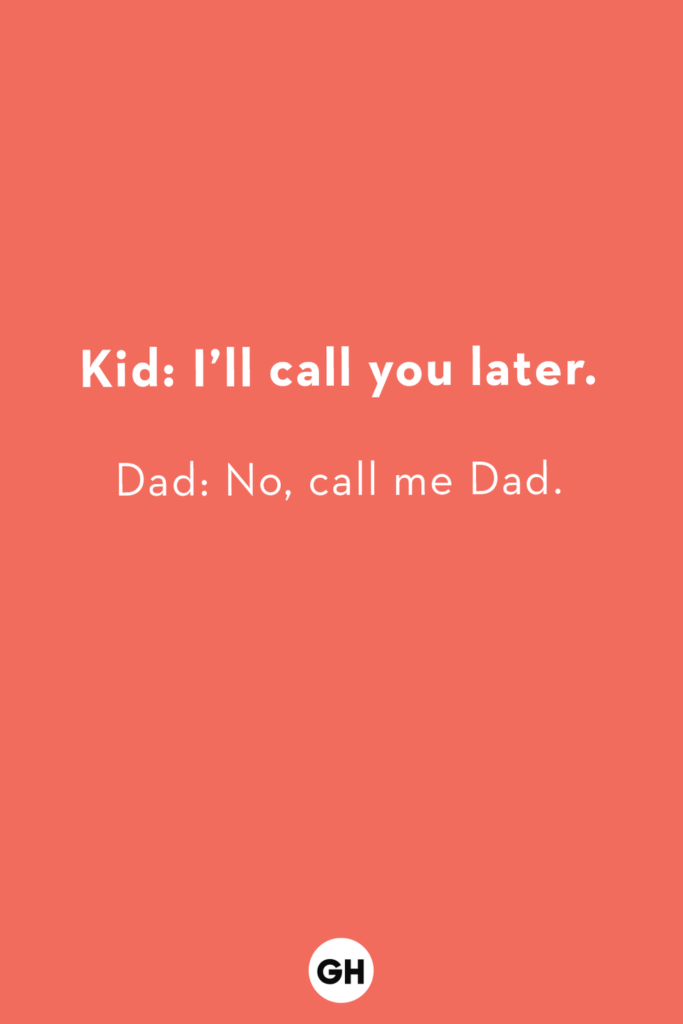 So, what makes dad jokes so amusing (or cringe-worthy)? One theory suggests that the humour lies in their predictability and simplicity. Dad jokes often rely on puns, wordplay, or clever twists, engaging our minds in a playful way. The groans they elicit are part of the charm, as the anticipation of a cheesy punchline creates a humorous tension that we can't help but embrace. Moreover, research shows that shared laughter releases feel-good neurotransmitters like oxytocin, promoting bonding and a sense of closeness.
Appreciating the Corniness
As I reflect on the countless dad jokes shared over the years, I've realised that it's not the punchline that matters most—it's the intention behind them. Dad jokes become an expression of love, a way for fathers to connect with their children through humour. They offer lighthearted moments amid the ups and downs of life, reminding us to find joy in the simplest of things. So, I've learned to appreciate the corniness, knowing that behind each cringe-worthy joke lies my dad's genuine desire to make me smile.
Helping Kids Develop into Healthy Adults
Research has also found that dad jokes have a positive effect on a child's development. While the importance of a father and mother's love cannot be denied, humour can be a coping mechanism, allowing children to find lightheartedness and relief in challenging situations. Dad jokes may help kids develop a sense of resilience and the ability to find humour in awkward situations and even in difficult times.
In addition, dad jokes often rely on wordplay, puns, or clever twists, requiring cognitive processing and linguistic skills. Exposure to such humour can contribute to children's language development, vocabulary expansion, and understanding of linguistic nuances.
Beyond the Jokes: Building Lasting Memories
While dad jokes are at the heart of our laughter-filled moments, they have also played a significant role in creating lasting memories. Each groan, eye roll, and shared chuckle has become a thread in the fabric of our relationship. These jokes have served as icebreakers, conversation starters, and even remedies during difficult times. They have become cherished moments that I look back on with fondness and a deep appreciation for the unique bond I share with my dad.
Do you also have a treasure trove of dad jokes?
In a world where life can get serious and challenging, dad jokes offer a respite—a way to lighten the mood and bring us closer. The science behind dad jokes reveals that humour has the power to strengthen bonds and create enduring memories.
So, even if the jokes may be corny and predictable, I embrace them with open arms, knowing that they are a symbol of love, laughter, and an unbreakable father-daughter connection. After all, it's not just about the punchline—it's about the shared joy and laughter that will forever hold a special place in my heart.