In our modern society, the pressure to be perfect surrounds us. We are bombarded with images of flawlessness, airbrushed appearances, and curated lives on social media. So it's not surprising that studies are showing perfectionism is increasing—to the detriment of our mental health.
Clearly, this constant pursuit of perfection can take a toll on our emotional well-being, leaving us feeling inadequate, overwhelmed, and disconnected from our true selves.
The Pressure of Perfectionism
Picture that student who's always striving for straight A's, spending countless hours studying, and beating themselves up over every tiny mistake on an exam. It's like they've got a perfectionism monster breathing down their neck, pushing them to achieve an impossible level of academic perfection.
Or that overworking colleague who never seems to take a break because they're constantly chasing the elusive "perfect" work performance. They obsess over every detail, sweat bullets to meet unrealistic deadlines and feel like the world's about to collapse if a project doesn't go exactly as planned.
Or that someone who spends hours in front of the mirror, striving for an airbrushed version of themselves. They follow strict diets, hit the gym like there's no tomorrow, and are constantly seeking validation from others about their looks. It's like they're on a never-ending quest for physical perfection.
Maybe you also know of a couple that seems to have it all together on the surface but struggles with the weight of perfectionism within their relationship. They set unrealistically high expectations for themselves and their partner, seeking constant reassurance, and falling into self-doubt or criticism whenever they perceive a flaw or make a mistake.
You may also know that a parent is tough, but for the perfectionist parent, it's a whole other level of pressure. They're constantly second-guessing their choices, comparing themselves to others, always pressuring themselves to keep the house impeccably tidy, and feeling guilty when they inevitably fall short of their own impossibly high standards. It's like they're striving for the title of "Perfect Parent of the Year."
And then there's that artist, writer, or musician who is immensely talented but struggles to share their creations with the world. They're their own harshest critic, constantly dissatisfied with their work, and hesitant to publish or showcase it because it doesn't meet their sky-high standards. It's like their creativity is held hostage by the relentless pursuit of perfection.
Maybe you can personally relate to at least one of these examples all too well.
The Wisdom of Wabi-Sabi
Enter Wabi-Sabi, a Japanese concept that celebrates the beauty of imperfection, transience, and authenticity.
Wabi-Sabi (侘寂) is a worldview that revolves around embracing the fleeting nature of existence and the beauty found in imperfection. It's like looking at the world through a lens that appreciates the charm of things being "imperfect, impermanent, and incomplete." This aesthetic is deeply ingrained in various forms of Japanese art, creating a profound connection between art and the ever-changing nature of life.
The concept reminds us to embrace the inherent flaws and imperfections in ourselves, others, and the world around us. Wabi-Sabi encourages us to let go of unrealistic ideals and find beauty in the imperfect, the aged, and the naturally evolving.
Finding Beauty in Imperfection
Wabi-Sabi invites us to shift our perspective and recognise that perfection is an illusion. Instead, it encourages us to embrace the beauty of asymmetry, simplicity, and the passage of time. It teaches us to find joy in the weathered, the worn-out, and the imperfectly crafted.
By embracing imperfection, we free ourselves from the never-ending quest for flawlessness and find peace in the present moment.
Wabi-Sabi Art
Celebrating the inherent charm found in the imperfect, the aged, and the unadorned, Wabi-Sabi invites viewers to appreciate the beauty of the present moment and the impermanent nature of all things.
Ceramics and Pottery: Japanese ceramics and pottery often embody wabi-sabi aesthetics. Pieces may feature asymmetrical shapes, irregular textures, and subtle imperfections resulting from the handcrafted process. The use of natural materials and earthy colours further enhances the wabi-sabi feel.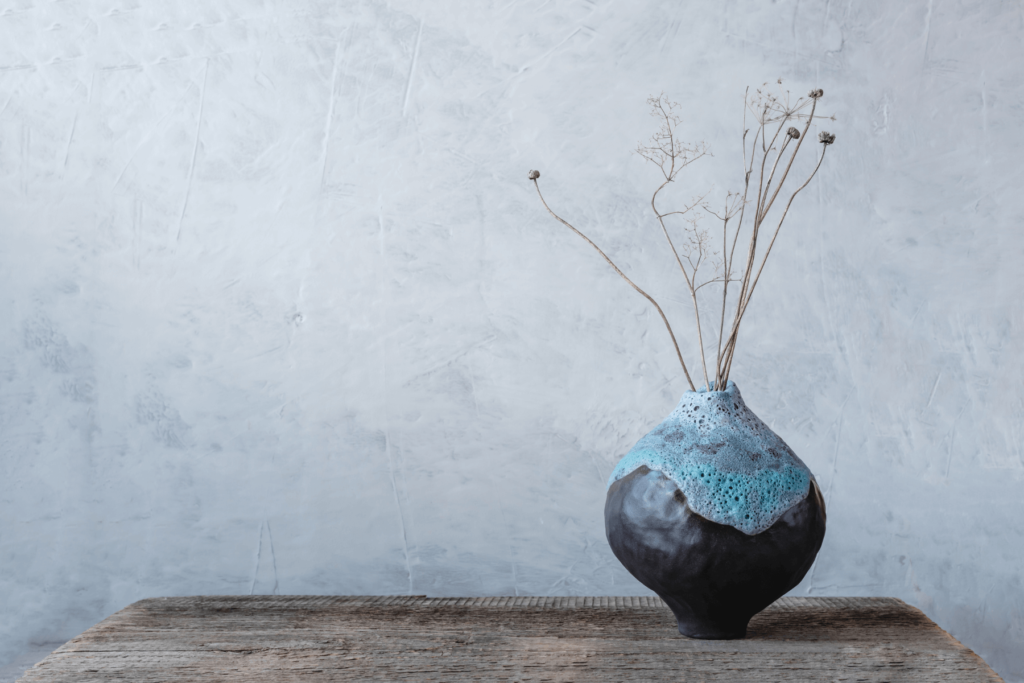 Ikebana (Flower Arrangement): Ikebana, the Japanese art of flower arrangement, exemplifies wabi-sabi principles. Arrangements focus on minimalism, showcasing the beauty of natural materials, including branches, leaves, and flowers, in their unadorned state. Emphasis is placed on the arrangement's simplicity, balance, and harmony with its surroundings.
Zen Gardens: Zen gardens, known as "karesansui" or "dry gardens," are serene and contemplative spaces that embody wabi-sabi aesthetics. They consist of carefully arranged rocks, sand, and sparse vegetation. The deliberate placement of elements reflects a sense of impermanence, tranquillity, and the beauty of simplicity.
Calligraphy: Traditional Japanese calligraphy, or "shodo," embraces wabi-sabi through its minimalistic yet expressive brushstrokes. The focus is on capturing the essence of the written characters rather than pursuing flawless precision. The slight variations and subtle imperfections in each stroke add depth and character to the artwork.
Tea Ceremony Utensils: Wabi-sabi is deeply rooted in the Japanese tea ceremony, where tea utensils embody its principles. Tea bowls, tea scoops, and other utensils often exhibit rustic textures, organic shapes, and natural imperfections, highlighting the beauty of the imperfect and the handmade.
Bonsai: Bonsai, the art of growing miniature trees in containers, embraces wabi-sabi aesthetics by celebrating the beauty of aged and weathered trees. The twisted trunks, gnarled branches, and asymmetrical forms reflect the imperfections and transience of nature, evoking a sense of harmony and contemplation.
Sumi-e Painting: Sumi-e, a traditional Japanese ink painting, captures the essence of subjects with minimalistic brushstrokes. Artists often leave blank spaces on the paper, allowing the viewer's imagination to fill in the details. The focus is on simplicity, harmony, and capturing the fleeting nature of the subject.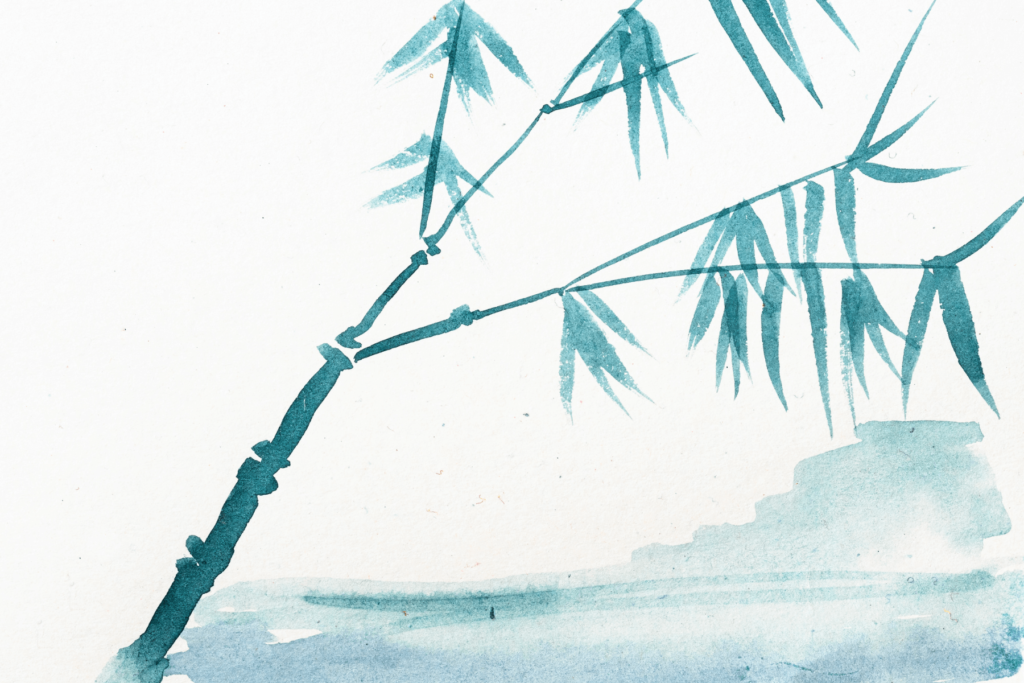 Cultivating Wabi-Sabi in Everyday Life
Addressing perfectionism is a process that requires self-awareness, self-compassion, and a commitment to change. By cultivating Wabi-Sabi in everyday life, we are able to reduce pressure on ourselves, accept the current situation and enjoy the moment.
Self-Acceptance
Practice self-compassion and self-acceptance. Embrace your quirks, imperfections, and vulnerabilities. Recognise that they are an integral part of your unique story and contribute to your authenticity.
Remember to be gentle with yourself when you make mistakes or fall short of your own expectations. Treat yourself as you would treat a dear friend or loved one.
Practice flexibility and adaptability in your thinking and actions. Embrace the idea that sometimes good enough is truly good enough. Allow room for spontaneity, experimentation, and the possibility of making mistakes without harsh self-judgment.
Letting Go of Expectations
Release the need for perfection in all areas of your life. Embrace the beauty of the unfinished, the messy, and the imperfect. Allow yourself to be in the present moment, event adopting a beginner's mindset, without judgment or comparison.
One way to go about this is to challenge unrealistic expectations. Question the belief that everything must be perfect or flawless. Recognise that perfection is an unattainable and subjective ideal. Challenge the notion that making mistakes or experiencing setbacks diminishes your worth or value as a person.
Finding Beauty in Simplicity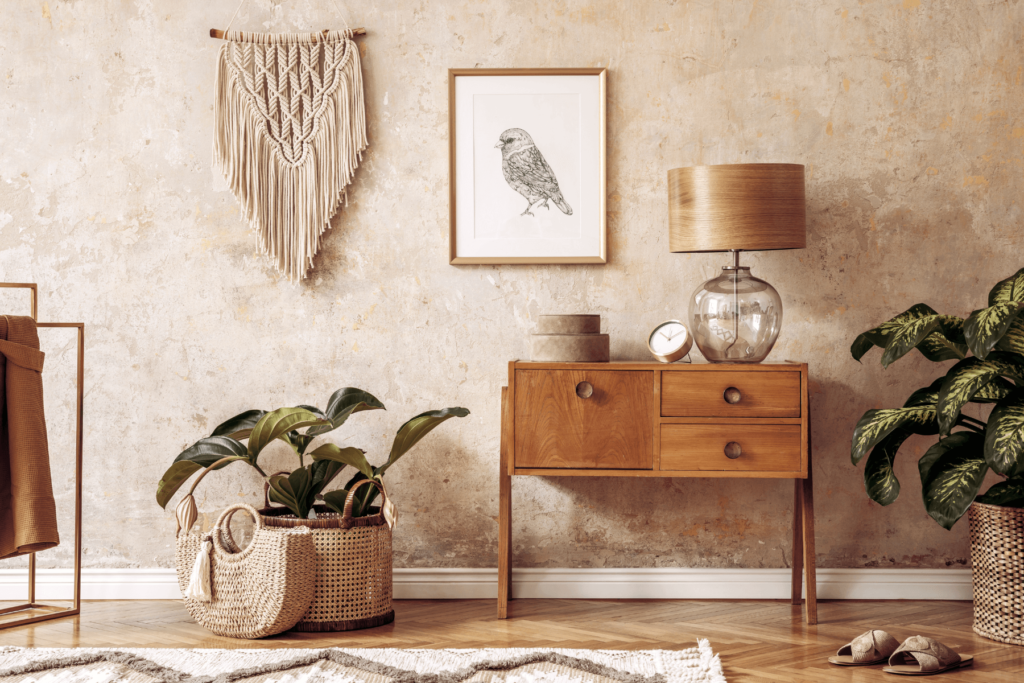 Simplify your surroundings and appreciate the beauty in minimalism. Very much present in Japanese art and aesthetics, there are several ways you can incorporate wabi-sabi design into your home, such as being more intentional in your decor choices.
Furthermore, you can opt to seek out the simple pleasures in life, such as a cup of tea, a walk in nature, or a heartfelt conversation.
Nurturing Mindfulness
Cultivate mindfulness to appreciate the present moment fully. Slow down, savour experiences, do some simple exercises, and find beauty in the small, fleeting moments that often go unnoticed.
Embracing Imperfection as Self-Care
By embracing Wabi-Sabi, we embark on a journey of self-care that nourishes our souls. It allows us to let go of the weight of perfectionism and embrace our true selves with love and compassion.
Embracing imperfection becomes an act of self-care as we learn to value ourselves and our experiences, just as they are, without the need for external validation.
Embrace Wabi-Sabi in Your Life
In a world that pressures us to be flawless, Wabi-Sabi offers a gentle reminder to embrace the imperfect, find beauty in simplicity, and cultivate self-acceptance. By letting go of the pursuit of perfection and embracing the changes, we discover a profound sense of liberation and peace as we go about fulfilling our life's purpose (Ikigai). So, let's celebrate the cracks, the wrinkles, and the unpolished aspects of life.
Embrace the wisdom of Wabi-Sabi, and watch as imperfection becomes a radiant source of joy, self-care, and authentic living.