In the hustle and bustle of our modern lives, it's all too common to find ourselves trapped in a never-ending cycle of burnout and overwhelm. In trying to carry out our life's purpose, the demands of work, relationships, and technology often leave us feeling emotionally and mentally drained, yearning for a sense of peace and tranquillity.
Nowadays, we experience burnout and overwhelm in various situations, especially when we face prolonged stress and high demands.
Whether it's work-related burnout wherein we face high job demands, tight deadlines, little time for rest or relaxation, and minimal resources or support; or social media and technology overload wherein we feel overwhelmed by constant notifications and information from social media platforms.
Maybe it's also in the form of personal life burnout—whether you're dealing with financial stress, debt, or job insecurity, or significant life changes such as relocation, divorce, or loss of a loved one.
Or you could be someone constantly multitasking, trying to manage several responsibilities simultaneously. When we overcommit to numerous activities, it usually leaves us little time for rest or self-care, leading to mental and emotional exhaustion.
As we navigate through the chaos, there is an ancient Japanese concept that holds the key to restoring balance and finding beauty in simplicity – Yuugen.
Unveiling the Mystery of Yuugen
Yuugen is a word that defies precise definition, and that's precisely its charm. It embodies a sense of mystery, depth, and beauty that goes beyond ordinary experiences. Imagine that moment when you witness a mesmerising sunset or hear a hauntingly beautiful melody that stirs your soul – that's the essence of Yuugen. This captivating Japanese concept revolves around embracing the transient and finding allure in imperfection.
Essentially, yuugen is best understood through its subtle nuances, but some key aspects include:
Indescribable Depth
Yuugen represents a feeling or atmosphere that is beyond words or description. It's an ineffable sense of profundity that captures the essence of the experience but remains just beyond the grasp of precise expression.
Appreciation of Transience
Like many Japanese concepts, yuugen is rooted in the impermanence of life. It often emerges when contemplating the fleeting nature of existence, evoking feelings of melancholy and reverence for the passing moments.
Embracing the Unknown
Yuugen embraces the mysterious and the unknown. It finds beauty in ambiguity and leaves room for imagination and interpretation. It invites us to explore the depths of our emotions and thoughts, even if we can't fully grasp them.
Harmony with Nature
The concept of yuugen often draws inspiration from the natural world. It is closely tied to the changing seasons, the shifting landscapes, and the cyclical rhythms of life. The beauty of yuugen can be found in the delicate blossoms of cherry trees or the dance of fireflies on a summer night.
Emotional Resonance
Experiencing yuugen can evoke a profound emotional response, stirring feelings of awe, wonder, nostalgia, or a bittersweet sense of beauty. It is often described as a mixture of pleasure and sadness, a blend of joy and melancholy.
Connection with Art and Literature
Yuugen is frequently associated with Japanese traditional arts, especially in poetry and literature. Haiku and tanka poems, for example, often evoke yuugen by capturing a fleeting moment in nature that evokes a deeper sense of meaning.
Examples in Art, Literature, and Poetry
The concept of Yuugen is deeply woven into various art forms, literature, and poetry, reflecting the Japanese appreciation for beauty in simplicity and the fleeting nature of existence.
Aesthetics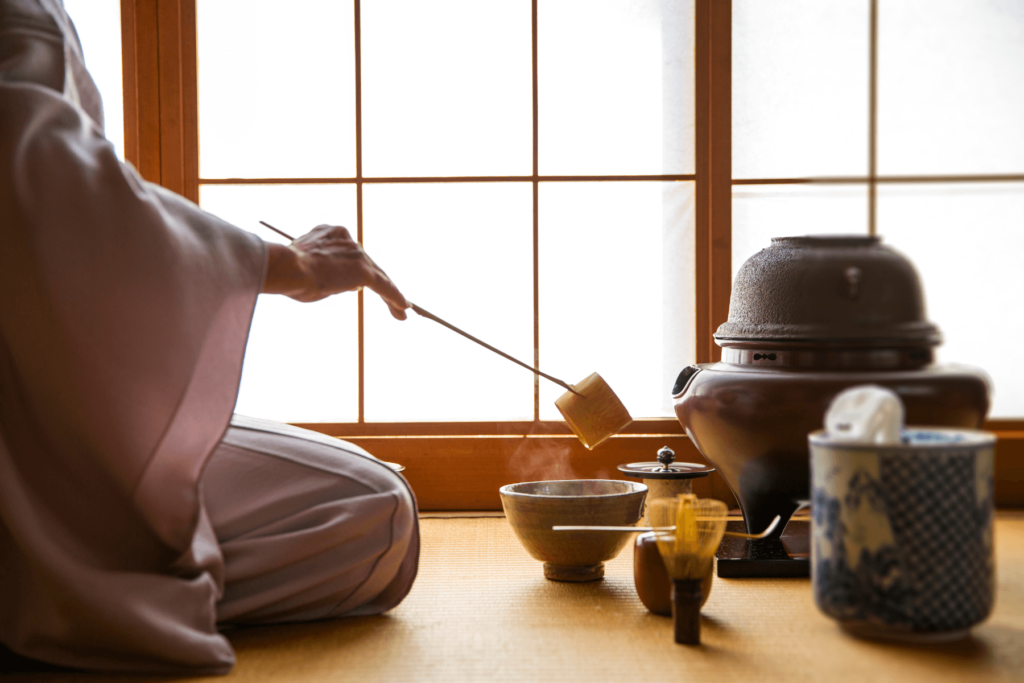 In Japanese aesthetics, yuugen is often depicted in traditional art forms such as Noh theater and tea ceremonies. In Noh theater, the use of masks and minimalistic movements creates an atmosphere of mystery and depth.
The actors' expressions are intentionally ambiguous, leaving room for the audience's interpretation and emotional resonance. In tea ceremonies, the focus on simplicity, natural materials, and the transient beauty of seasonal elements evokes yuugen.
The subtle gestures and the meditative ambiance invite participants to appreciate the profound beauty in the simple act of sipping tea.
Literature & Poetry
In Japanese literature, yuugen is skillfully conveyed through symbolism and imagery that capture the essence of transient beauty and emotional depth. A classic example can be found in the haiku poetry of Matsuo Basho, a famous Japanese poet:
An old silent pond…
A frog jumps into the pond,
Splash! Silence again.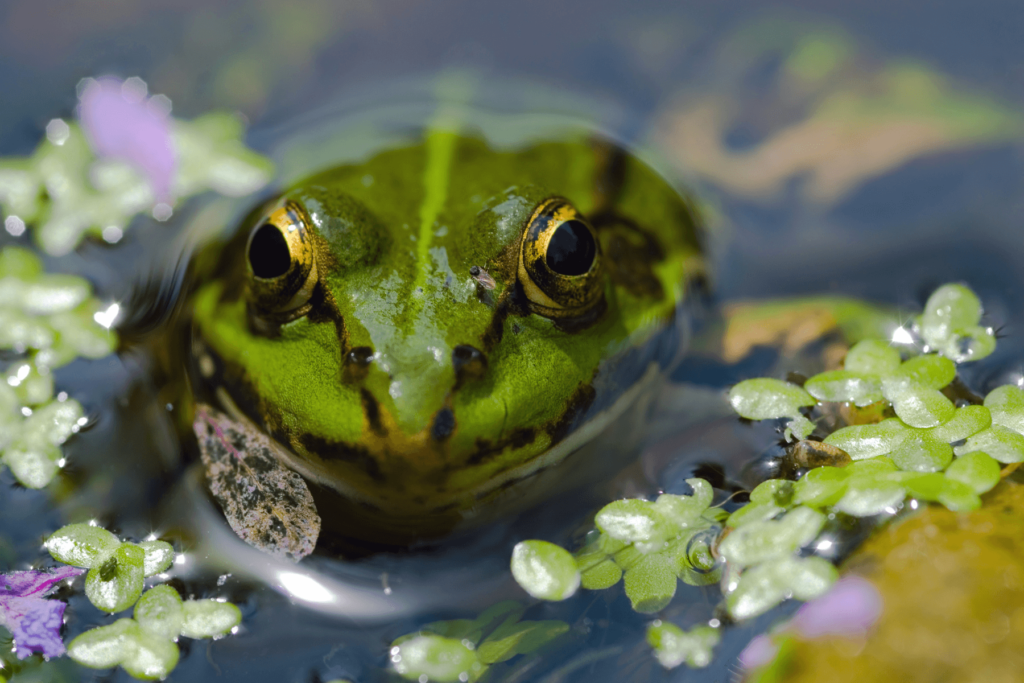 In this haiku, the simple scene of a frog jumping into a pond carries a profound sense of yuugen. The silence before and after the splash reflects the stillness and transience of nature. The haiku invites readers to contemplate the depth of this seemingly ordinary moment and the connection between life and the eternal.
Tanka poetry, another traditional Japanese form, also captures yuugen in its brevity and emotional resonance. An example from the poet Yosano Akiko:
Snow falls on the water…
As I watch, my mind turns
To the long gone past
And I am left with nothing
But a deep sense of longing
In this tanka, the falling snow and the water's surface evoke a wistful sense of yuugen. The poet's emotions blend with the natural scene, expressing a profound feeling of nostalgia and longing for a distant past.
The poem encourages readers to reflect on the impermanence of life and the beauty found in moments of contemplation.
How Yuugen Helps with Burnout and Overwhelm
Living the philosophy of Yuugen offers an antidote to burnout and overwhelm, providing a balanced and mindful approach to life—especially in our modern, technologically-driven age.
Here are some ways living yuugen can positively impact our well-being:
Cultivating Mindfulness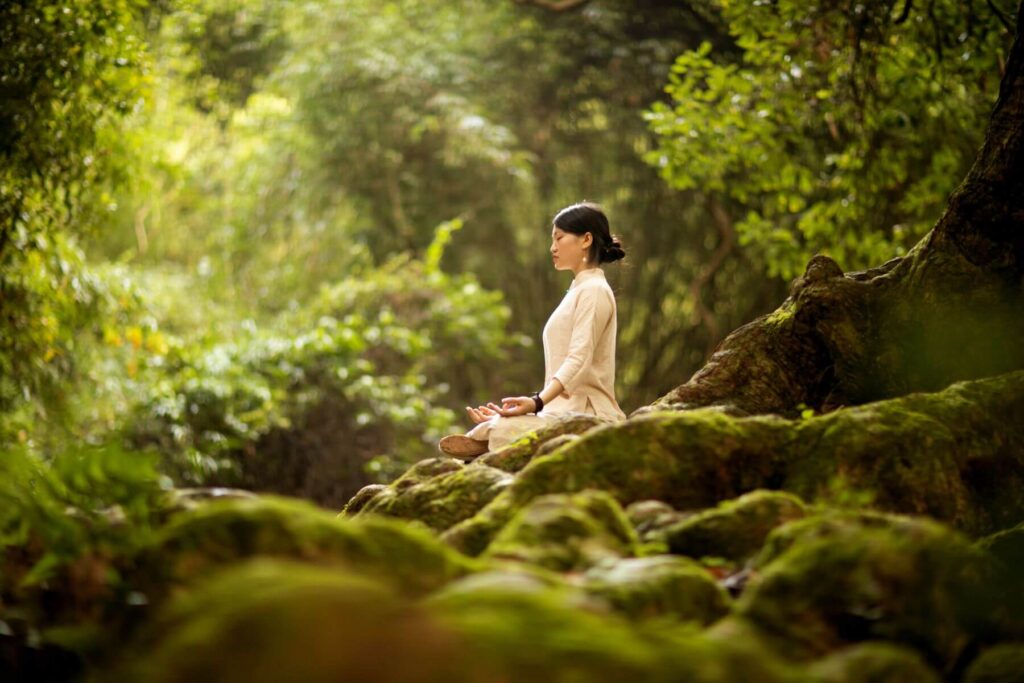 Yuugen encourages us to be present and fully engaged with our surroundings. By embracing the beauty and mystery of the moment, we become more mindful of our experiences, thoughts, movements, and emotions. This mindfulness helps reduce stress, improve focus, and enhance our overall well-being.
Fostering Connection with Nature
In a digital world where screens dominate our attention, yuugen invites us to reconnect with nature. By appreciating the changing seasons, observing natural phenomena, and finding beauty in the simplicity of the outdoors, we foster a deeper connection with the environment, promoting feelings of awe and gratitude.
Embracing Impermanence
Living yuugen reminds us of the impermanence of life and the fleeting nature of experiences. This perspective encourages us to savour each moment, making the most of what we have, even if we find ourselves as a beginner, without being overly attached to material possessions or future outcomes.
Finding Beauty in Simplicity
In a society often driven by consumerism and excess, yuugen celebrates the beauty of simplicity. Embracing this concept can lead us to appreciate the joy and contentment found in minimalism, reducing clutter and distractions, and focusing on what truly matters.
Nurturing Emotional Resilience
Yuugen teaches us to find beauty in both joy and sadness, recognising that emotions are natural and temporary. By embracing the bittersweet nature of life and the constancy of change, we develop emotional resilience and learn to navigate through challenging times with grace and acceptance.
Promoting Human Connection
In a world where virtual interactions are common, yuugen encourages genuine human connections. By immersing ourselves in meaningful face-to-face interactions, we deepen our relationships, fostering a sense of belonging and social support.
Cultivating Creativity
The ambiguous and mysterious nature of yuugen nurtures our creativity and imagination. By embracing the unknown and leaving room for interpretation, we find inspiration in the art of storytelling, poetry, and various artistic expressions.
Balancing Technology Use
While technology has undoubtedly improved our lives, yuugen reminds us to strike a balance. By periodically disconnecting from screens and immersing ourselves in natural and artistic experiences, we can reduce digital overload and enhance our well-being.
Embrace Yuugen Today
In a world filled with constant demands and distractions, Yuugen offers us an enchanting way to find balance, rejuvenate our spirits, and embrace the beauty in life's imperfections.
By integrating this profound Japanese concept into our daily lives, we can journey towards a path of mindfulness, resilience, and inner peace.
Let us remember to slow down, immerse ourselves in nature's wonders, and celebrate the mysteries of life as we embark on a journey of self-discovery and fulfilment through the enchanting realm of Yuugen.